We're Opening Sep 11, 2017!
---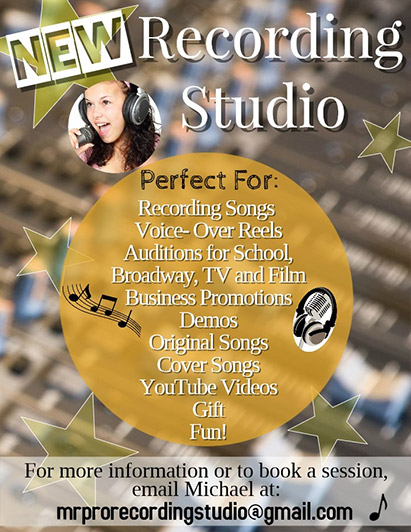 ---
!! CONGRATULATIONS !!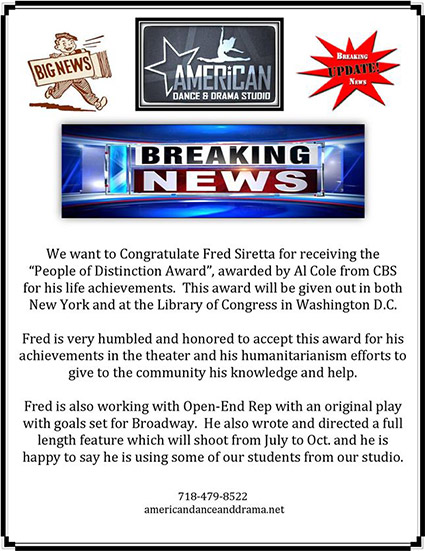 ---
New Film Dept & Social Media Classes

More Film Dept & Social Classes

New Recording Studio

Triple Threat Classes

Zumba Classes


---
CONGRATULATIONS!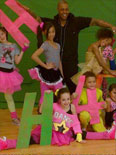 Congratulations to our teacher Brice and American Dance and Drama students for their photo shoot and DVD!!!
OUR STUDENTS HAVE MADE GREAT ADVANCES IN 2011& 2012!
Kailani Coba:
Our student who was Nyla in the "Lion King" on Broadway, landed a leading role in the T.V. show "The Gifted Man" on CBS, as well as some commercials and a movie this season.

Lauren Kelly:
Lauren had a guest spot and leading role on two episodes of "Law & Order: Special Victims Unit" for NBC and a guest spot on "Blue Bloods." Lauren can be seen on many T.V. commercials.

Lindsey Johnson:
Lindsay performed in a 4-star movie, "The Treatment", in which he had a leading role. He also directed a short film, and won best actor in his college.

Alexandra Sarmiento:
Alexandra was a finalist in Las Vegas for "So You Think You Can Dance." Alex has toured in Japan and the U.S. in a leading role in the National Touring Company of "A Chorus Line."

Lauren:
Lauren has a leading role in two films that will be coming out this year, also T.V. shows, "Louie" & others & commercials. On YouTube, she has 1/2 billion subscribers worldwide and landed the leading character in a new comic book. She has a pilot for her own show for T.V. this year. Lauren was nominated for a Cannes award and won the award for best comedy.

Autumn Blamoville:
Autumn is from our vocal department, and sang at the Apollo and received first runner-up and is invited back for another appearance.

Stephanie Jeter:
Stephanie is one of our graduate students who was a member of Alvin Ailey Touring Company and is now working for Disney.

Crystal Simon:
Crystal has graduated in Drama from Ithaca College. She has stage-managed at the 13th Street Repertory Theater and the Eugene O'Neill Theater, and trained in Russia at the famous world-renowned international school. Crystal was very comfortable in Russia. They loved her talent and she said that the training was very similar to what she had learned at American Dance and Drama.

Georgia Linaris:
George was elected President of Frank Sinatra High School. Congratulations!

Our Triple Threat Classes:
Students who have auditioned for agents, were sent out for the Broadway shows - "Annie", "Newsies", etc. also movies, print work and commercials. Congrats!! to the children who got call-backs for "Annie", print work & billboard for Target.


Our company has been winning in regionals and Nationals. Best entertaining dance numbers, best choreographer, Miss Petite, Ms. Teen, Mr. Teen, etc.



Congratulations to all our students who will be attending Performing Arts High Schools and colleges this September. They trained diligently in Acting, Vocal & Drama and will be attending LaGuardia, Professional performing Arts School, Frank Sinatra and Talent Unlimited. Please contact us of any of our children's progress. We are so proud of all of them.



Watch for New Workshops on Sunday with choreographers from Broadway and Manhattan.



Mark Weston, acting teacher and writer who was in the class with Lee Strasberg with Marlon Brando and Marilyn Monroe. Also having taught playwriting classes at Screen Actors Guild. Mark and Fred Siretta taught at American Dance and Drama for many years. Sign up for new playwriting classes at American Dance and Drama!